Custom Netting Panels
C-NET
Product Ships: Ships in 2-7 Business Days
Netting Calculator
X
Pre Made Netting Panels:
The following netting panels are in stock and ship within one business day, we offer small sections of nylon netting with no border ropes as well as PolyPro netting panels in both Golf and Baseball sizes that have rope borders on edges.
5' x 5' Golf Netting from $14.00
5' x 5' Baseball Netting from $8.00
10' x 10' Poly Pro Golf Panel - $47.00
10' x 20' Poly Pro Golf Panel - $89.00
10' x 10' Poly Pro Golf Panel - $35.00
10' x 20' Poly Pro Golf Panel - $69.00
10' x 30' Poly Pro Golf Panel - $94.00
Click the button found below for more information and to purchase pre made netting panels.
See Products
close window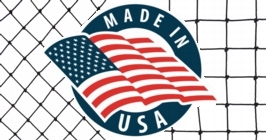 ft
in.
ft
in.
Only integer values allowed!
For almost 300 years Gourock has been the leader in supplying custom Netting and Rope projects, commercial sport facilities, colleges, universities, city municipalities & schools, recreation departments, and residential installations, no job is too big or small.
We only use the best quality materials, DuPont® Type 66-728 Twisted-Knotted Nylon, as well as premium construction materials like Dacron® ropes and nylon tying twine. Hand-built and 100% USA Made
Custom Netting Panels can be quoted using the netting calculator above or you can
Contact Us
to submit your dimensions, netting type request, and forward over drawings and diagrams for more complex jobs.